The time came for the annual running of Santa Pod's showcase of old school drag racing, Dragstalgia. With 9 cars entered in for the nostalgia cannonball (5 funny cars, 3 altered and 1 nitro rail) it would make for some close, hard fought racing.
With the weather winning on Saturday it was looking doubtful of any running, but with a sterling effort from the Santa Pod track crew the surface was readied and we managed to see not only one, but both qualifying sessions, well done to everyone involved in the massive effort to dry the track.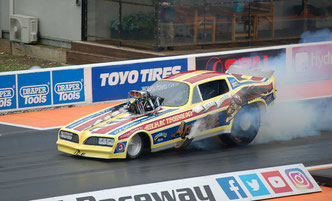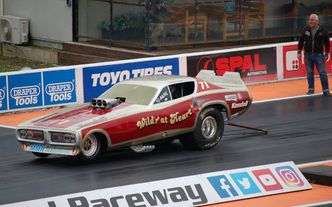 The cars were called to the startline and all but one made the call, Bob Glassup was experiencing gearbox issues meaning the team would sit out the first session. First up was Rob Elsom on a solo in Dirty Deeds, although in competition he was also completing licensing runs. A quick squirt of the throttle netted Rob a 60ft time 0f 1.18, matching the numbers from the BMW show (see below)
Next up to run was Robin Read in his dragster against Tony Betts' Venom. Both cars showing some great short track numbers, Robin a 1.06 to Tony's 1.08 60ft times, but the power of Tony's funny car powered through the top end at 6.59 to Robin's 7.11.
The next pair pulled through and it was Ramon Van Der Weurf with the alky funny car, Wild'r at Heart, against Steph Milam in the She Devil racing car, running as an altered for the weekend. Ramon hitting the numbers straight away with 1.05 60ft whereas Steph seemed to launch in high gear carding a 1.47 60ft. Ramon maintained the advantage and went 6.51 to Steph's 7.46.
Next up in this seesion was Robbie Grabham in the Freddy's Revenge altered. Away from the lights Robbie hit 60ft in 1.17 and went through to a 7.51.
Missing from the action was Tim Garlick in Apache and Jim Draper in the Reckless Rat altered, both were shut down on the startline before staging.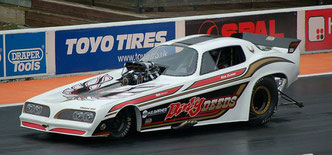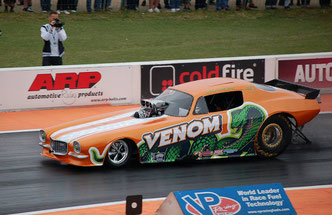 First up again was Rob Elsom for more seat time and hopefully a next step on his licensing runs, sadly not to be this time, it appeared another go at 60ft but a non representative 1.84 60ft was gained. Next up saw the funny cars of Tony and Ramon paired up, and what a race it was! both cars were glued together down the track, with Tony taking the stripe at 6.61 to Ramon 6.68, that was a close one! Next up saw the rail of Robin to take on Bob Glassup in the nitro Capri - Bubblegum. Robin away first with a red light, which doesn't count for qualifying. Nevertheless Robin carded a 6.76 to Bob's 7.66, but Bob had a run under his belt, and some data in the computer.
Next up saw Tim Garlick in the repaired Apache funny car taking on Steph in the altered. The Apache team had worked wonders on the car as Tim hit the loud peddle it looked like it was going to be a quick one, and boy was it! Apache recording a 1.01 60ft and onto the quickest run of the session at 5.97 to a greatly improved 6.34 for Steph in the altered.
First up this session was Steph taking on Robin in an altered vs rail battle. Robin was clearly away first and even though Steph was charging hard Robin got to the line first with a 6.89 to Steph's 6.86. Next up saw Tim taking on Ramon in a nitro vs alky funny car race. Almost dead even off the line and Ramon having the better 60ft time, 1.040 to a 1.044, but after that Tim was pulling away down the 1/4 mile crossing the stripe in 6.04 to Ramon's early shut off (as the centre line was getting close) 6.47.
The Final pair under the tower saw Tony taking on Bob in a nitro funny car pairing. Both cars were away together and looking great heading down the Santa Pod track. There was no obvious issues with the Venom car, however a comparatively slow 7.10 came up on the boards to Bob's 7.30.
Rob Elsom was up next in the Dirty Deeds Trans Am. A 60ft time of 1.37 and then an idle down the track. It is always great to see a new team making times down the track, and getting the knowledge and experience in turning the car around. Well done to the whole team, who also had help from the Harrison TMD team for the weekend, well done to all.
1 Ramon van der Weurf      19.67
2 Tony Betts                      20.31
3 Steph Milam                    20.68
4 Robin Read                     20.77
5 Tim Garlick                     27.20
6 Bob Glassup                    30.16
7 Robbie Grabham             41.16
8 Rob Elsom                      48.83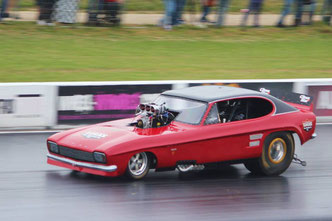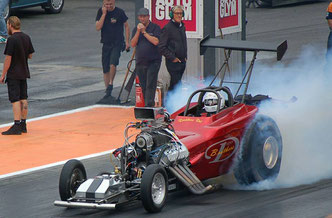 With Steph unable to make the call the 3rd/4th place run off took place between Robin Read and Tim Garlick.Tim away first  with a 0.13 reaction to Robins 0.29. Robin clawed some back in 60ft with a 1.02 to Tim's 1.06. After that is was all Tim down the track pulling away on all the incremantals. Even with an early shut off apache had done enough to secure the 3rd place with a wholeshot win 6.74 to the charging Robin's 6.69.
The Final was to be Tony in Venom taking on Ramon in the Wild'r at Heart. Tony was keen to cut a good light, however a little too keen with a -0.11 red light handing the win to Ramon. Both cars made full pulls though, and even with a green light Tony would of been hard pushed for the win light with Ramon clocking a 6.35 to Tony's 6.51.
A massive well done to Ramon and the team for a hard fought win and for successfully defending their dragstalgia cannonball crown, will in be 3 years in a row, 2018 can't come soon enough!!
A massive thank you to SPR timing crew for the numbers, Neil Dilkes of Nitro uk youtube channel, Andrew Green for his help with the photos and facebook site. As always a massive thank you to Eurodragster for their dedication and hard work. Well done to all the teams involved for the fantastic show, the next stop is the European Finals at Santa Pod in early September, see you all there!!
We are pleased to have heard from Rob Elsom (driver/owner of Dirty Deeds) about his visit to the BMW show at Santa Pod. Thank you to Santa Pod Raceway for this fantastic photo!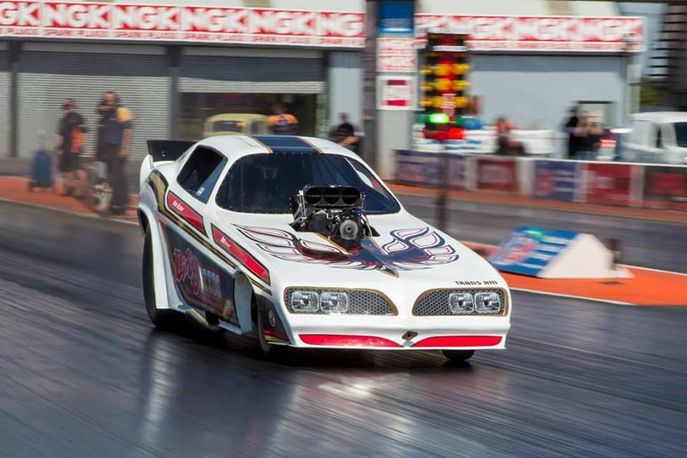 "I thought the super mod car was fast, but this is something else!" was how Rob described the first hit in his Nitro Funny Car. After missing out on getting the car on the track at the summer nationals for various reasons Rob and the team headed for Santa Pod last weekend for another attempt to get down the track. Even though it was the first hit in the car it was not set to slouch, getting a 60ft time of 1.18! An issue with the throttle linkage made the butterflies hang open once Rob was off the loud peddle, but Rob handled it like an experienced pilot, got it all shut down and coaster through in 9 seconds, not bad for a first weekend. Well done to Rob and the whole team!
Rob is also pleased to announce a new sponsor for his team : H.E. Barnes. H E Barnes are based in Sheffield and provide electrical and mechanical solutions and services. Please stop by the Dirty Deeds pit space at dragstalgia to see Rob and some of the staff from H.E. Barnes.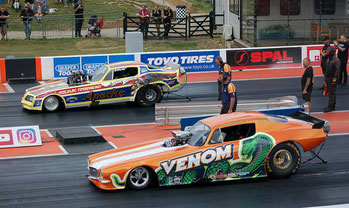 Santa Pod's Summer nationals brought about the 2nd round of the NFC championship. On the card were 3 cars entered; Tim Garlick in Apache, Tony Betts in Venom and Rob Elsom in Dirty Deeds. With the weather forecast looking awesome, hopes were high for some fantastic racing, and we weren't disappointed.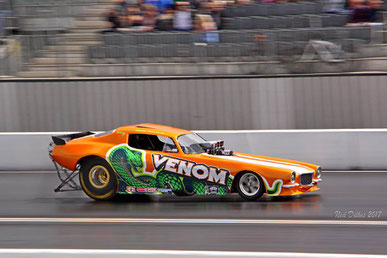 With both Apache and Venom warmed up it was time to hit the track. With Venom having some fantastic numbers showing from the festival of power it was going to be a close run thing, that's for sure. 1st qualifying saw the 2 cars pair up: Tim left Tony on the 0.07 to a 0.24. Tim was also quicker to the 60ft by 4 thousandths with a 1.08 to Tony's 1.12. Tim crossed to finish line first 6.46 at only 179mph, followed closely by Tony powering through to a 6.77 at 208mph.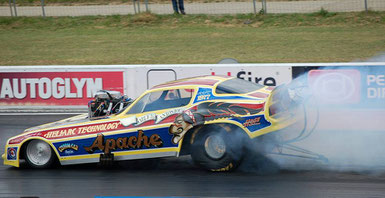 Qualifying 2 saw the 2 cars take to the track again. Tony hit a better reaction time of 0.11, but was still outdone by Tim with a 0.01 Both cars running under power all the way through, Tim taking the win light again running a 6.18 at 230mph. Tony was no slouch though running through a 6.55 at 215mph, great runs guys!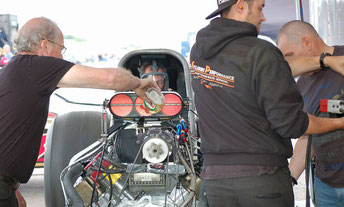 Sunday came and 3 cars were warmed up ready to take to the strip. The fuelling issues had been sorted by the team and the car (and driver) were readied for the first attempt down the 1/4 mile. All three cars were taken to the start line for the final qualifying for the event. Again we saw Tim against Tony, things were a lot more even on the startline, but still in the favour of Apache with a 1.05 to a 1.09. Things started to go wrong for Apache before the 1/8th with a 4.89 at 105mph to Venom's 4.34 at 175mph. Tony storming through to a 6.58 at 208.99, taking the win light for the first time, well done to Tony and the whole team. Next up was Rob in the Dirty Deeds Trans Am. all fired up but a lack of movement prevented Rob his time in the spotlight. Sadly a crash for Andy Bond in the street eliminator class saw the track close preventing the final being run. A big well deserved 'well done' to Tim and the Apache team on another number 1 qualifier to the seasoned team.
Onwards for the next nostalgia funny car race, the non points event that is Dragstalgia, hopefully see you there!!
Thank you goes to Neil Dilkes for the fantastic on track footage, Andrew green for the photos (unless otherwise credited), Andy Marrs of TSI Timers for the timing data and of course www.eurodragster.com for their tireless efforts, thank you everyone!! See below for a small photo gallery from the event.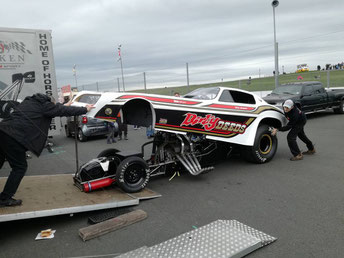 With some midnight oil being burnt and many hours of garage time being put in it was soon time for the Festival of Power after a long winter lay off. With 2 cars on the entry list it was a very nice surprise to see 3 cars set up in the pits, Apache of Tim Garlick, Venom of Tony Betts and Dirty Deeds of Rob Elsom. It was great to see Rob at the track with the Trans Am, we are all looking forward to seeing this awesome bit of kit make its way up the 1/4 mile soon. This was solely a fire up and tinker session for Rob and the team - it's easier to fire up at the track as the neighbours don't tend to mind as much!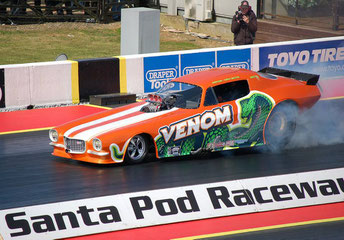 Making his on track debut in NFC was Tony Betts in the new Venom Camaro, and what a stunning car it is. Purchased for Richard Hartman it is a fully up to date, best of everything build. With Richard over from America helping for the weekend it was steep learning curve with the new car, but nothing the team couldn't handle! Tony showed no signs of forgetting how to pilot a nitro car since his time in the NFAA, running the car to a best 60ft time of 1.015 and a best 1/4 mile of 6.48 at only 159.04mph!!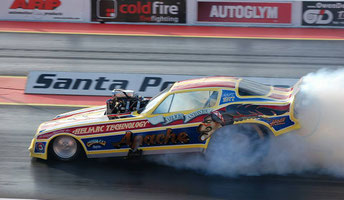 Needless to say when Tony 'drives it out the back door' we will see some very impressive times from him and the car!
As always it was great to see Tim Garlick in the Apache trans am running. The returning champion from last year doesn't seem to have let the winter lay off slow things down and he and the Apache team had the car roaring down the track, taking up where they had finished off last year.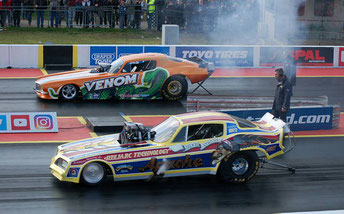 With a best for the weekend of 6.07 at 218.21mph this will certainly send a message to the other funny car teams hoping to take the crown away from Apache in 2017!
What a fantastic opening to the season, and with over 2 months to the next championship round hopefully the competition will heat up going into the SPRC Summer Nationals at Santa Pod.
Thank you to www.eurodragster.com for the event coverage and online timing data. 
First of all, Happy new year!!!!
Secondly, apologies. With many things going on during 2016 I decided to take a year off from the website, but we will be back stronger than ever for 2017.
To wrap up 2016 a very well done to Tim and the whole Apache team for their amazing progress with the car, and wrapping up the championship. What does 2017 hold for the class, hopefully a lot more cars to boost the small fields. For those of you in facebookland, you may of seen updates from the teams on the ENFC page (click the link button below) including updates from the teams of Jon Best and more recently Tony Betts. Tony has purchased a car in from America and is hoping to have it here in time to contest the opening round at the Festival of Power. If you visit the facebook page you will see a video from the first fire up, sounding awesome!!!!!
There are also regular updates from some of the other teams including the NitroBug of Andy Raw. The Dirty Deeds Trans Am of Rob Elsom seems to be getting close too.There are many other cars out there in workshops being tinkered with, and many hundreds of hours of effort being put in. Lets hope for big fields for the upcoming season and really make it hard for Tim to retain his title, having said that Apache is on storming form and will be hard to keep up with.
We are also hoping to get a reporter in to the world famous March Meet for up close footage from our American cousins, and to check in with Nick and Rob in the Havoc AA/FA pits to see how their American dream is going
Hopefully see lots of you at the opening round and Santa Pod for the Festival of Power!!!